Messages on waiting room screens continue to deliver important public health imperatives to patients, family and caregivers. In the spring, as coronavirus cases surged, research showed visits to health care providers dropped roughly 60%. But now, eight months into the pandemic, a Harvard study of more than 50 million visits across the U.S., finds patients roaring back.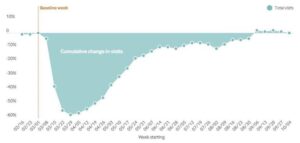 "In contrast to early on in the pandemic, when patients were very scared about going to their doctor's office, now into mid-October, the data really highlight that a lot of that fear has dissipated," said Dr. Ateev Mehrotra, lead author of the study and an associate professor at Harvard Medical School.
The Harvard study completely corroborates PatientPoint's findings based on medical claims data and primary research. We also found that waiting room traffic continues to grow, nearing pre-COVID levels in most of the county. Overall, we're seeing 87% of patients are spending time in the waiting room for an average of 11 minutes per office visit.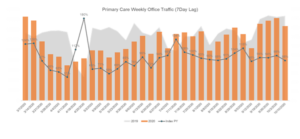 Summary:
Patients are back in physician offices after a low in April 2020.
Physician practices are encouraging patients to reschedule previously postponed visits.
Consumers' concerns about risks associated with in-person visits continue to drop.
Patients and caregivers are spending time in waiting rooms – an average of 11 minutes.
The waiting room screens provide an opportunity for public health departments to reach consumers
in a trusted, captive environment.
Public health messages on screens are believed to be endorsed by the consumer's personal physician.