November 9, 2022
American Hospital Association: The Health Equity Roadmap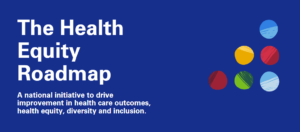 About the Health Equity Roadmap
The Health Equity Roadmap is a framework to help hospitals and health care systems chart their own paths toward transformation — thus becoming more equitable and inclusive organizations.
The American Hospital Association (AHA) vision is of a just society of healthy communities, where all individuals reach their highest potential for health. Through its Institute for Diversity and Heath Equity, the AHA seeks to eliminate structural barriers that compromise diversity, equity and inclusion in hospitals and health care systems.
The below program information is being forwarded by the Office of Rural Health and Primary Care (ORHPC) as a service of this office.  ORHPC does not endorse or recommend any vendor or service. Please review for the appropriate use within your organization.