June 1, 2023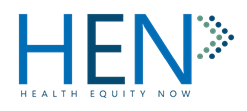 Next Health Equity Now Huddle is June 6
Be sure to attend next week's (June 6) Health Equity Huddle (HEH). Health Quality Innovators' (HQI) Health Equity Manager Temi Olafunmiloye, BS, will lead a discussion about the May 23 Learning Session on "Assessing Disparities in Readmissions." Click HERE to review the May 23 session if you missed it.
Also, the next Learning Session is a continuation of "Addressing Disparities in Readmissions," which will be held on June 20. Building on the previous session, participants will focus on developing strategies to respond to common issues in disparities in readmissions, including providing early discharge planning and follow-up for high-risk patients, eliminating language and literacy barriers, and facilitating culturally competent patient education.
When: Tuesday, June 6, 12 pm ET
Future HEH Sessions:
Future Learning Sessions:
Click HERE to learn more about the Health Equity Now series.