February 28, 2023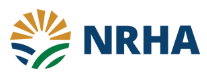 Webinar – NRHA's Rural Hospital HR Certification Program – Wednesday, March 8 at 12:30 PM
The increasing rates of employee burnout and turnover coupled with the struggle to recruit and retain staff are just some of the everyday obstacles faced by rural hospital HR Leaders. Along with constantly changing policies and regulations and a lack of resources across the board, there has never been a more crucial time to support rural hospital HR Leaders.
Do any of these topics concern with you?
Recruiting
Retention
Burnout
Culture
Staff & Organizational Training/Development
Labor Laws & Regulations
Communication
FTEs, Productivity, & Payroll
Budgeting
Employee Engagement
Employee Benefits
Learn about how NRHA's Rural Hospital HR Certification Program can provide the network, knowledge, and tools for your rural hospital's HR Leaders! Join NRHA on March 8th at 12:30 pm to learn about this one of kind program, created by rural hospital HR executives for rural hospital HR executives.
Register Here