December 20, 2022
 Help Map the Broadband Gap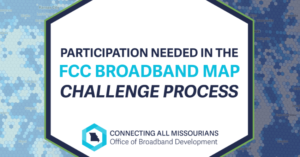 Missourians have until January 13, 2023, to file challenges to FCC maps of broadband coverage in time to affect our share of more than $42 billion in funding through the Broadband Equity, Access, and Deployment (BEAD) Program.
Check the FCC Broadband Map to see if your community is listed correctly.
Connecting All Missourians – Office of Broadband Development Flyer
For more information, please see the Missouri Department of Economic Development (DED) Press Release.