February 7, 2023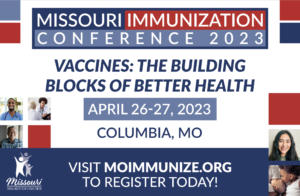 Conference – 2023 Missouri Immunization Conference
April 26 – 27, 2023, Columbia, MO
The 2023 Missouri Immunization Conference brings together bright minds to give talks that are action-oriented on a wide range of subjects related to immunizations to foster learning and inspiration, as well as provoke conversations that matter and actions that lead to increased vaccination rates for Missourians. The theme of this year's conference is Vaccines: The Building Blocks of Better Health.
Participants will:
Self-report increased confidence in their ability to advocate for vaccinations against preventable diseases
Self-report an increase in knowledge about evidence-based strategies designed to address vaccine hesitancy, and combat misinformation
Self-report increased confidence in their ability to educate patients on vaccine preventable diseases
Self-report increased knowledge of key legislation and policies designed to improve the equitable distribution of adult vaccines
Target Audience:
Physicians
Advanced Practice Providers
Nurses
Pharmacists
Public Health Professionals
Hospitals & Ambulatory Care Staff
Long-term Care Facilities
Private Healthcare Providers
This program is jointly provided by the University of Missouri Sinclair School of Nursing, the University of Missouri School of Medicine and the Missouri Immunization Coalition.