April 7, 2023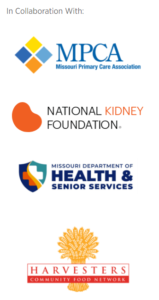 Free Webinar – Health Equity and Social Determinants of Health Learning Collaborative: A Population Health, Team-Based Care and Community-Based Approach
Missouri Primary Care Association (MPCA) along with Missouri Hospital Association, Missouri Department of Health and Senior Services, National Kidney Foundation, and Harvesters are pleased to announce registration for the Five Part Health Equity and Social Determinants/Drivers of Health Learning Collaborative webinar series is now open.
This series will cover information on innovative data platforms currently being used in community health needs assessments and implementation strategies to identify where disparities exist, thus helping communities target interventions with the needed specificity. Attendees also will learn about the importance of leveraging technology to connect a multidisciplinary team to create an environment of networking and shared learning with the sole purpose of promoting the health and well-being of everyone.
The Learning Collaborative series will run May-September 2023, with sessions held monthly from May 3 through September 6 and is free to participate but registration is required.
Sessions will be held monthly from May 3 through September 6.
Who should participate:
Community health workers
Care coordinators
Nurse care managers
Discharge planners
Social workers
Quality improvement staff
Clinic managers
Operations staff
Providers/practitioners
Case managers
Administrators
Community health staff
Population health staff
Diversity, equity, and inclusion staff
Researchers
Data analysts
Utilization review
Accreditation staff
Learn more here
Click here to register