April 4, 2023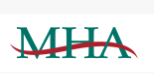 Free Webinar Series – Health Equity and Social Determinants of Health Learning Collaborative
The Missouri Health Association (MHA) is hosting a five part webinar series – Health Equity and Social Determinants of Health Learning Collaborative: A Population Health, Team-Based Care and Community-Based Approach. This webinar series meets people where they are in their health equity and social determinants of health journey.
Topics include the impact of justice, equity, diversity and inclusion on health equity and SDOH. Attendees will hear statewide, regional and local standpoints related to how health equity and SDOH currently are addressed.
Additional highlighted topics will include standardized SDOH screening tools, innovative data platforms used in community health needs assessments and implementation strategies, and social referral platforms being used in Missouri.
Sessions will be held monthly from May 3 through September 6.
Intended Audience:
Community health workers
Care coordinators
Nurse care managers
Discharge planners
Social workers
Quality improvement staff
Clinic managers
Operations staff
Providers/practitioners
Case managers
Administrators
Community health staff
Population health staff
Diversity
Equity and inclusion staff
Researchers
Data analysts
Utilization review
Accreditation staff
Click Here for More Information