June 21, 2023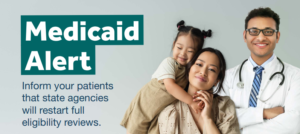 Keeping Patients covered in Medicaid and CHIP
The unwinding of the continuous enrollment condition authorized by the Families First Coronavirus Response Act (FFCRA) presents the single largest health coverage transition event since the first open enrollment period of the Affordable Care Act. As a condition of receiving a temporary .2 percentage point Federal Medical Assistance Percentage (FMAP) increase under the FFCRA, states were required to maintain enrollment of nearly all Medicaid enrollees during the COVID-19 Public Health Emergency.
The end of the public health emergency has resulted in states resuming normal operations, including restarting full Medicaid and CHIP eligibility renewals and terminations of coverage for individuals who are no longer eligible.
The Centers for Medicare & Medicaid Services (CMS) has developed communication tools to help patients keep their Medicaid and CHIP coverage as states restart full eligibility reviews.
What you can do:
Spread the word
Get the word out about Medicaid renewals
Help patients with the renewal process
Partner with your State Medicaid/CHIP agency to provide direct assistance to individuals and families with completing the renewal form
Don't risk a gap in your patients Medicaid or CHIP Coverage. Help them to take action by sharing these steps with patients:
Visit Medicaid.gov/renewals or call your state Medicaid Office for help or to update your contact information today;
Make sure contact information is up to date;
Watch their mail for a letter
Complete their renewal form if they get one.
Health care providers should take every opportunity to get the word out to patients that Medicaid renewals have restarted and to assist patients in completing renewal forms or directly connecting them to health plans, navigators, or state agencies that can help do so.