March 21, 2023

The Missouri Telehealth Network's Show-Me ECHO program builds learning communities of health care professionals who serve patients across Missouri. Show-Me ECHO facilitates multidisciplinary collaboration on topics various topics in adult and child clinical care, behavioral/mental health, community efforts, and education. Project ECHO fundamentally changes the way knowledge is shared to ensure the latest research and best practices reach every citizen in every corner of the state, especially rural and underserved populations.
Through videoconferencing technology, each month, professionals discuss participants' cases and collaborate to share strategies and solutions. More than 7,500 healthcare professionals have participated over the years in more than 67,000 hours free instruction. There are over 40 different ECHO programs to choose from at no cost to participating sites or individuals. Many ECHOS also provide free continuing education credit for qualifying professionals.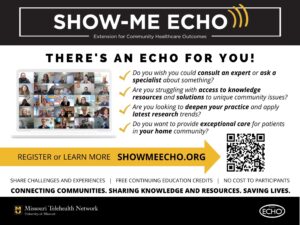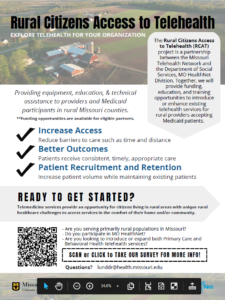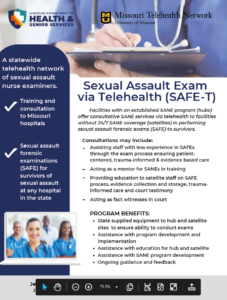 Register to join the next ECHO session by visiting showmeecho.org.