July 14, 2023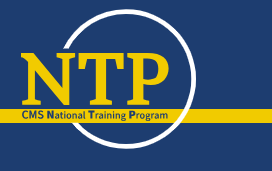 Registration is Open for the 2023 NTP Virtual Workshops
Registration for the 2023 CMS National Training Program (NTP) virtual workshops is now open.
Please click on the hyperlinked event title(s) to register for each event that you are interested in attending. You will be prompted to log into the NTP webpage. To log in, use the same email address and password you use to register for all NTP webinars. If you don't have an account you'll need to create on before you can complete registration.
After you register for an event, you'll get an email confirmation which will include a calendar appointment.
Please email NTPHelp@cms.hhs.gov if you need help with your account or registration.
Sessions will start at 1:00 p.m. and conclude no later than 3:30 p.m. ET.
Sessions will be recorded for later viewing.
Training Schedule:
July 2023
This workshop will explain drug coverage under the different parts of Medicare and describe how Medicare drug coverage (Part D) works, coverage rules, eligibility, enrollment, and Extra Help.
This workshop will explain Medicare health plan options other than Original Medicare with a primary focus on Medicare Advantage (sometimes called Medicare Part C).
Qualifying for Medicare based on a disability is different from qualifying based on End-Stage Renal Disease (ESRD) or age. This workshop will explore the enrollment process and unique scenarios like returning to work while getting disability benefits. We'll also discuss programs that can help with medical costs.
August 2023
This workshop will explain different payers' responsibilities when people have both Medicare and certain other types of health and/or prescription drug coverage.
This workshop will walk through examples of Medicare coverage scenarios in a casework format to evaluate the case, review possible resources and options, and discuss appropriate solutions.
This workshop will explain Medicare for people with End-Stage Renal Disease (ESRD). It includes information on eligibility and enrollment, coverage and health plan options, and provides additional resources.
This workshop will explain tax-favored health programs and basic information about how those programs work with Medicare.
This workshop will demonstrate how to shop and compare Medicare plan options using Medicare Plan Finder on Medicare.gov.
This workshop will explain CMS current priorities, initiatives, and recent programmatic updates.
NOTES:
Registration requests will be considered on a first-come, first-served basis until each session reaches capacity. The number of attendees from the same organization may be limited. If any session reaches capacity, we'll work to schedule an additional offering for a later date.
Session materials will be available for download at the time of the events.
The NTP website has been redesigned. Even though the website may look different from when you registered, you won't have to re-register for any of the events.