January 19, 2023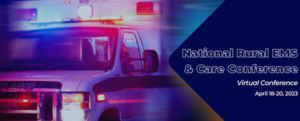 Registration Now Open: National Rural EMS & Care Virtual Conference 2023
The National Organization of State Offices of Rural Health, the National Association of State EMS Officials, and the Joint Committee on Rural Emergency Care invite you to join them on April 18-20, 2023, for the 8th annual National Rural EMS & Care Conference!
Register today for this one-of-a-kind virtual conference that brings together rural EMS stakeholders from across the country.
 Registration deadline is April 13, 2023
Visit the Conference web page for additional details as they become available. Please feel free to share this information with your partners, providers, or other interested parties.
If you have questions about the conference, please contact Caroline Wroczynski, NOSORH Education Manager, at carolinew@nosorh.org