August 4, 2023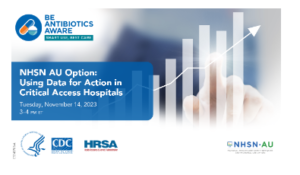 Upcoming Webinar – NHSN Antibiotic Utilization Option: Using Data for Action in Critical Access Hospitals
This webinar is co-hosted by the Centers for Disease Control (CDC) and the Federal Office of Rural Health Policy. Speakers will describe requirements for meeting the Antimicrobial Use and Resistance (AUR) Measure within the Centers for Medicare and Medicaid Services (CMS) Promoting Interoperability Program and using the National Healthcare Safety Network (NHSN) Antimicrobial Use (AU) data for action in critical access hospitals.
Objectives
Describe requirements for meeting the NHSN AUR Measure within the CMS Promoting Interoperability Program
Illustrate using NHSN AU Option data to inform and implement antibiotic stewardship activities
Identify tracking and reporting resources to enhance your antibiotic stewardship program
Continuation education for pharmacists, nurses and physicians is pending.
When: Tuesday, November 14, 2023, 3:00 p.m. ET