January 13, 2023

Opportunities of Interest for OT21-2103 Colleagues
We're pleased to share two opportunities that may be of interest to you or your partners. Please find the information below and reach out to the points of contact listed if you have questions.
The next iteration for the REACH program (Racial and Ethnic Approaches to Community Health) will be released this year. Please access this link for the related grants.gov forecast listing (https://www.grants.gov/web/grants/view-opportunity.html?oppId=342940). Individuals can click on the "Subscribe" button in the top right corner. Once registered with the website you will be notified when the notice of funding opportunity (NOFO) is released and ready for applications to be submitted.
The National Equity Atlas is officially accepting applications for its second cohort of fellows. The program is designed for grassroots leaders of color who want to learn how to use data to advance racial and economic equity in their communities. The application portal will remain open through January 21, 2023, and the fellowship will begin in March 2023. For more information, see the announcement and links below: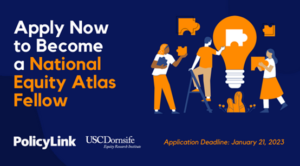 Are you a grassroots leader of color currently working on equity campaigns for policy and systems change? Do you want to explore how data can bolster your efforts?
The National Equity Atlas Fellowship might be the perfect opportunity for you! Application Deadline: January 21, 2023
Facilitated by PolicyLink and the USC Equity Research Institute, this year-long program is designed to equip advocates of color with skills and tools to leverage data to advance racial and economic equity in their communities. During the experience, fellows will increase their skills in data analysis and visualization while producing data products to use in their organization's equity campaigns. They will also network with other equity advocates across the country, participate in group learning sessions and one-on-one coaching sessions, and forge deeper connections with Atlas team members. Organizations will receive a $7,500 stipend to support their fellow's participation in the program.
The deadline for applications is January 21, 2023. For more information, visit nationalequityatlas.org/lab/fellowship-cohort2.